Written by, Bernadyn Nettles
Can you believe Thanksgiving is next week?? My family is hosting Thanksgiving in our home this year so I have been in hostess mode making preparations for the special day. One of the things on my to-do list is setting up a nice fall tablescape that includes a pretty centerpiece, whether it be using floral arrangements or other fall-related items to help bring in the autumn colors and give our home that warm, Thanksgiving atmosphere. I put together some of my own creations working with fall pieces I already had and also included a few floral centerpieces from BloomNation to add some additional inspiration for those of you also hunting for fall tablescape ideas. Let me know what you think!
Fall and Thanksgiving Tablescape Settings
Below are a few table settings I played around with using some of the autumn decor I already had since I haven't had much time to browse the floral shop and craft stores. I didn't have much floral arrangements on hand but I got a little creative with what I did have - a few pumpkins, wine corks, artificial pine cones and artificial autumn leaves.
For this centerpiece, I used a mason jar and a reused small jar that once held jam. I placed some wine corks and small pumpkins in them to use as fillers.
The lighting for photos was much better in my living room so I used my coffee table to set up these centerpieces.
I have some old red candles and these candle holders that never get used so I thought I'd whip them out to help decorate for the fall season.
More wine corks in a vase... I guess I finally found something useful to do with them once they were popped off the top of the wine bottle!
I decided to throw in some classic pearls and make this fall centerpiece a bit more feminine.
I kept this last table centerpiece simple with just the orange pumpkins in the center on top of a cake stand.
Fall Floral Arrangements
The next floral arrangement has vibrant colors that really pop for a fall display.
I feel like the following arrangement looks like it just makes the room come to life and will be sure to add some lively conversation to a Thanksgiving table.
My daughter picked the next flower arrangement to include. It contains a balance of roses, orchids and thistles which I agree with her, they look "just beautiful!"
I admire the rugged theme of this arrangement below with the burlap wrapped around the vase. My daughter likes this one because of the large sunflower in the front.
Are you including a floral arrangement on your fall or Thanksgiving table this year? Which of these centerpieces would you choose?
Pass this post along, pin it and share!
This post may have been shared at these
linky parties.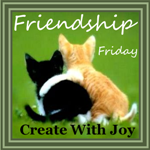 Related Posts